So I (Chuck) am house sitting this week, and being by myself sometimes brings along boredom. I was trying to think of something to post on here, and I finally came up with it. The Walking Dead. This post will just be a bunch of info on the Walking Dead comic, and the soon-to-be Walking Dead television series on AMC. Since there still isn't a WHOLE LOT out about the show, there will obviously be much more written about the comic. Let's start with a bit about the comic.
The Walking Dead
is a black and white comic booked penned by Robert Kirkman. The series follows the main character, Rick Grimes, a small town cop, as he helps guide a throng of survivors to safety during the zombie apocalypse. The series takes place at various different locations, in and/or Atlanta, Georgia. The first issue was released in October 2003, and have not ceased. To date, there are 73 issues of
the Walking Dead.
The series is authored by Robert Kirkman, and illustrated by Charlie Adlard (issues 1-6) and Tony Moore (issues 7 onward).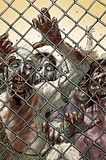 I had known about
the Walking Dead
for a while, but I was never really much into reading comic books. The only interaction I'd ever had with comics before
the Walking Dead,
were my 4 issue
Shaun of the Dead
comics and both series of
Freddy vs Jason vs Ash.
I'd wanted to check out this series, but didn't really want to shell out the money to buy all the issues. Let me just say that after reading them, I am definitely going to buy them.
I read all 73 issues in only 5 days. I had downloaded the issues via torrents, and read them all on my computer. I had such a difficult time deciding where to end each night. I'd say to myself, "One more issue, then I gotta go to bed." Well 90% of the time, when I got to the end of that particular issue, I'd have to continue to the next one. The cliff hangers are ridiculous, I never wanted to close it out. There are a million different plot twists that keep the reader guessing and can never be predicted. There are very important characters killed off in certain parts without any warning. I grew to like the characters so much, that when this particular character was killed a tear came to my eye. That's just good writing.
And the art is incredible! At first, I shuddered at the idea of a black and white zombie comic. I didn't think you could do it justice being only black and white. Boy was I wrong. The color (or lack thereof) adds to the 'environment' of the comic. And the zombies are really good. Its not like there is just one or two zombies used and replicated over and over, there are possibly thousands of different looking undead shambling throughout these pages. Despite it being in black and white, the gore in this comic is pretty good too. I found the entire thing very visually appealing.
Links:
Official Website
Wikipedia Page