Well zombie fans, it looks like the wait for a well put together zombie tv series is nearly over. Earlier this year, it was announced that AMC would do a television adaptation of Robert Kirkman's
the Walking Dead.
So far, AMC has ordered a six episode first season. At the helm of the pilot episode will be Frank Darabont, as he will have the duties of producer, writer, and director. After the pilot episode, Darabont will be more of a showrunner, with talks of the directing duties going to Michelle Maxwell MacLaren (
Breaking Bad
).The special effects/make up will be done than none other than Greg Nicotero. Nicotero learned a lot of what he knows from famous zombie effects guy Tom Savini. Nicotero and his company KNB Efx Group have worked on a plethora of zombie films, including Day of the Dead (1985), Land of the Dead (2005), and Diary of the Dead (2007). He has plenty of experience doing this sort of thing, and I am definitely looking forward to seeing what he can get away with on AMC. The show is scheduled to premiere this October on AMC. Check out Bloody-Disgusting's section for a multitude of articles on
the Walking Dead.
Below are some stills from early prodcution of the show.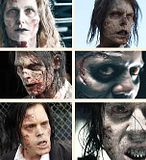 Links:
Official Website
Official Weblog
Articles on the show @ Bloody Disgusting
IMDB